1700C Cast Iron 5-Roller Pump Kit | 540 Quick Coupler | Max 45 GPM | Not For Use With Round-Up 
 PRICE DOES NOT INCLUDE SETUP OR SHIPPING – PRICED FOB FACTORY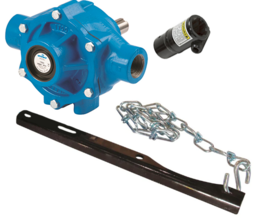 6500C Cast Pump Kit Includes
1700C Pump With 15/16″ Shaft 

Torque Arm 

Quick Coupler – Fits 1-3/8″ 6 Spline 540 (Multi-Speed 1000 Coupler Available – Call For Info)
1700C Pumps
The 1700 series HYPRO CAST IRON 5 ROLLER PUMP with 1″ FPT PORTS is designed for agricultural and industrial spraying and application of a variety of fluids including water, insecticides, herbicides, emulsives, liquid fertilizers and more. The roller pump provides a smooth performance that can achieve a maximum flow rate of 45 GPM and max pressure of 200 PSI with MAX 1000 RPM. This cast iron pump is built for a lower starting torque than other pumps with viton seals to provide a rugged performance.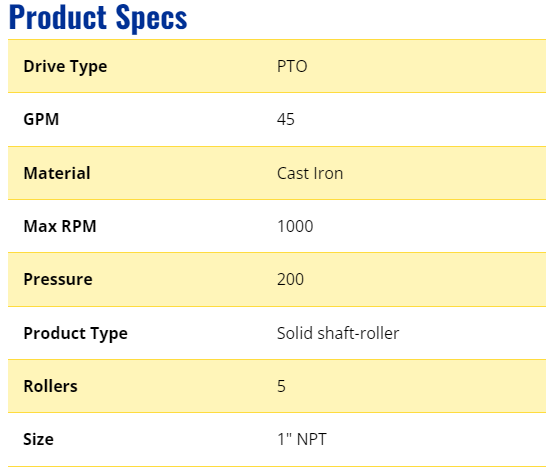 Hypro Roller Pumps 
Hypro roller pumps are the most popular pumps worldwide for agricultural tasks. These low-cost, highly-versatile pumps are used for spraying and transferring a variety of fluids including insecticides, herbicides, fungicides, emulsives, aromatic solvents, liquid fertilizers and many other non-abrasive liquids. All pumps are available in three materials: Cast Iron, Ni-Resist or Silver Series XL®. On average, the Silver Series XL® pumps last up to 10 times longer* than the competition.
These pumps contain rollers that revolve inside the pump housing to force the spray solution through the outlet to the nozzle. Hypro roller pumps are easily adaptable to PTO, gas engine or electric motor drives. The pumps operate efficiently at PTO speeds of 540 and 1000 rpm. Pressure ranges are up to 300 psi (20.7 bar) with flow rates of 2 to 62 gpm (7.6 to 235 lpm).
*Based on independent laboratory tests.
Hypro roller pump quality features:
Housing available in Cast Iron, Ni-Resist or Silver Series XL®

Ni-Resist is a high nickel content alloy for better corrosion resistance

Silver Series XL® has a custom alloy that provides the best corrosion resistance and is Ready for use with Roundup®

Self-priming operation; roller pumps should NOT be run dry

Adaptable to PTOs or gas engines

Standard seals are Viton or Buna-N
---
 Roller Pump Comparisons 
Herbicide Users Get up to 10 times longer pump life with Hypro Silver Series XL® Roller pumps!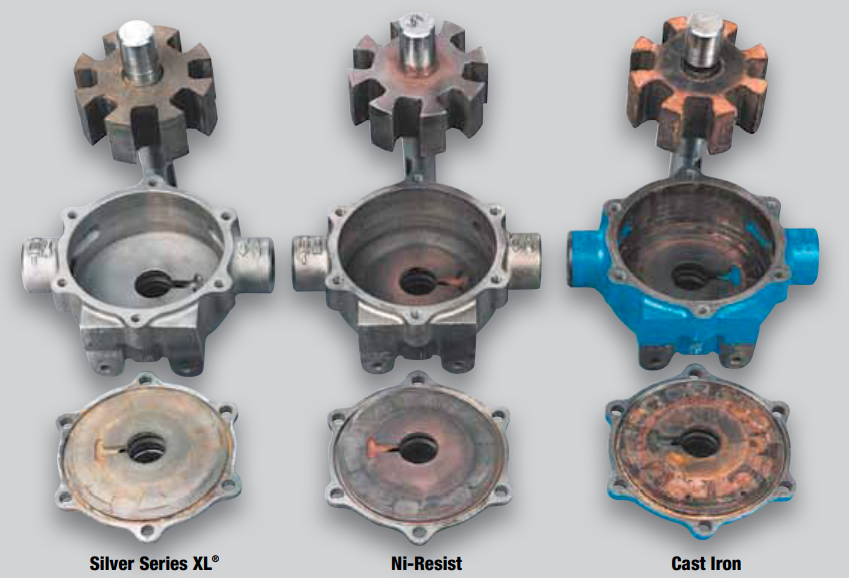 The three pumps shown above were photographed after being tested with a 30:1 mix of water and Roundup® herbicide. The Ni-Resist and Cast Iron indicate damage from pitting and corrosion, but the Silver Series XL® is in like-new condition after more than 1000 hours of use.

---
 Which Roller Pump, Rollers & Seals Should You Use? 
Material options for rollers and seals are listed in the order of recommendations for usage. These recommendations are only a general guide –